Features That Work for You
Filecamp offers a unique set of online tools designed especially for marketing and creative teams.
---
---
So what exactly does our software do? Among other things: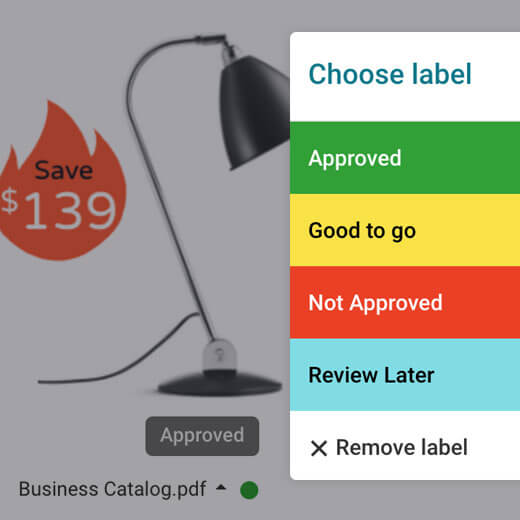 Labels
Add labels to your files for rating, easier indexing or proofing purposes. Create your own labels that make sense to you and your workflow.
Learn more.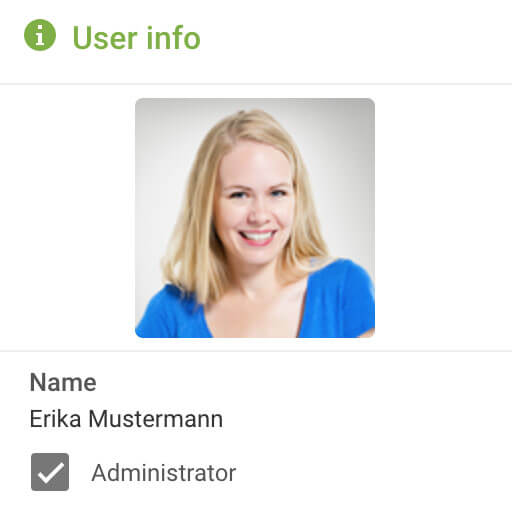 White Label
The Pro plan offers a full white label experience to ensure your brand is the only brand represented.
Learn more.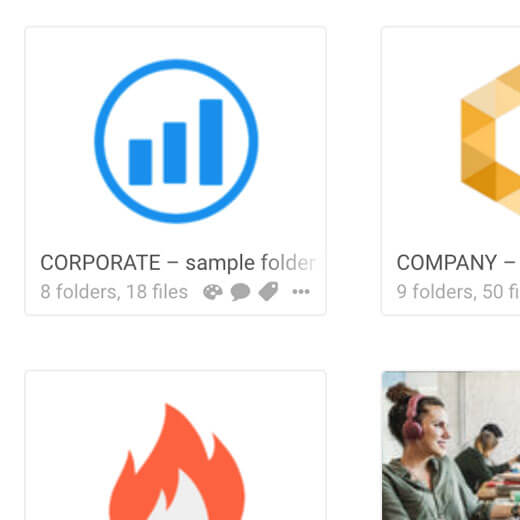 Custom thumbnails
We have given Filecamp a crisp and user-friendly interface, but sometimes you may find it useful to give your files and folders visual cues.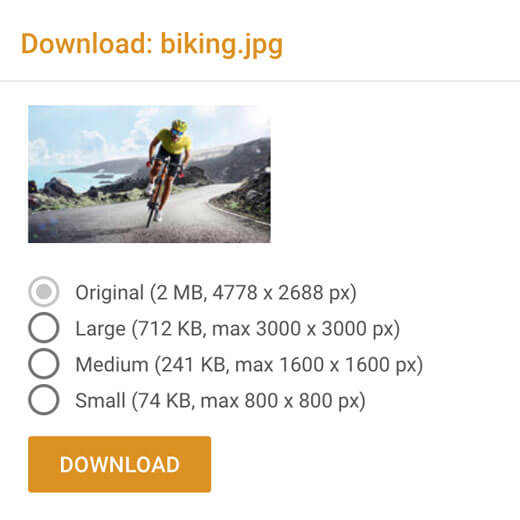 Downloads
Filecamp provides a lot of flexibility when downloading your brand assets. You can download in the original format or in a lower resolution on the fly.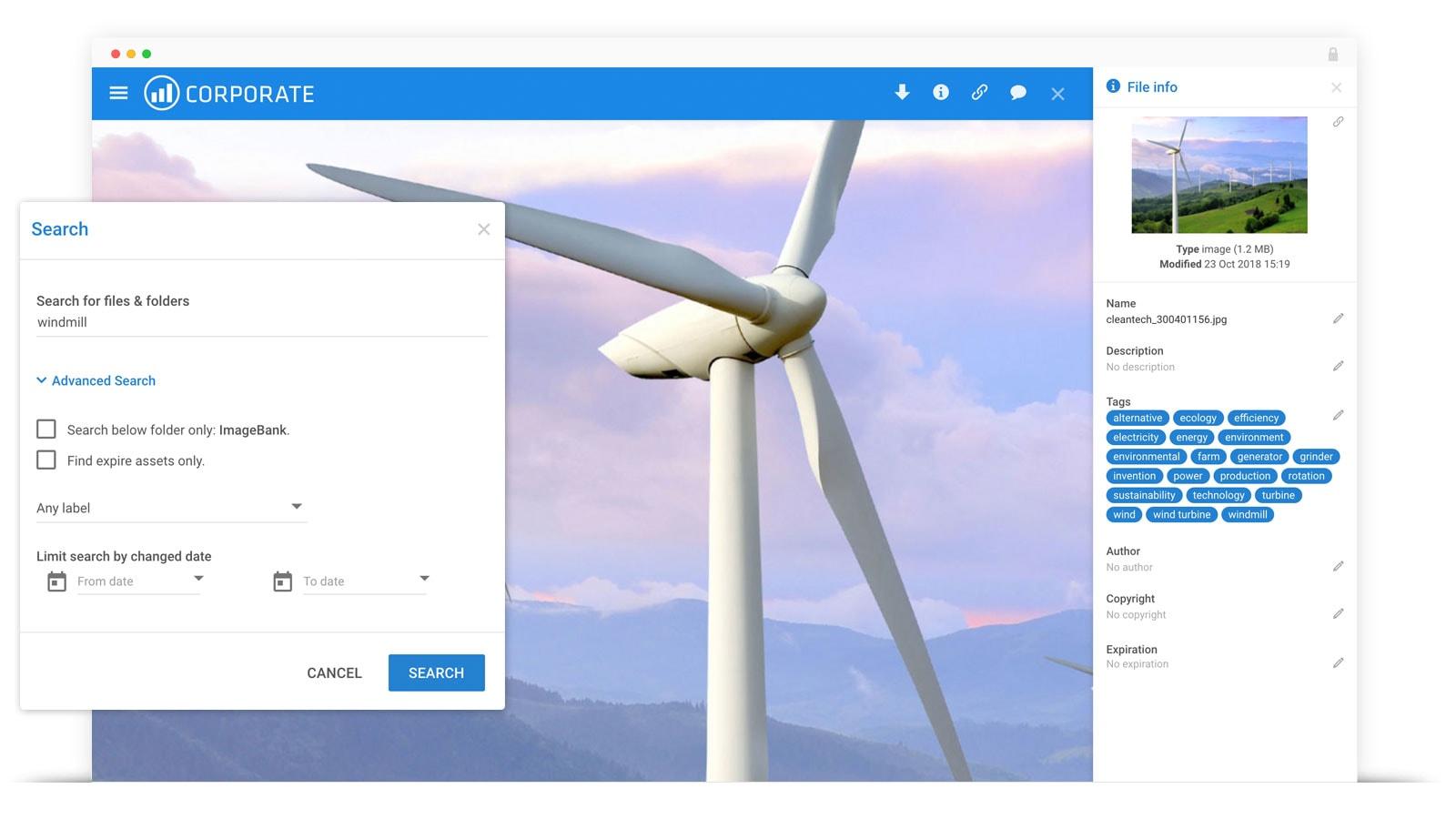 Search & Find
Looking for a digital asset? Make one quick stop for all of your company's images, stock photos, videos, creative files, documents, presentations and more. Powerful search features deliver exactly what you're looking for.
Learn more ...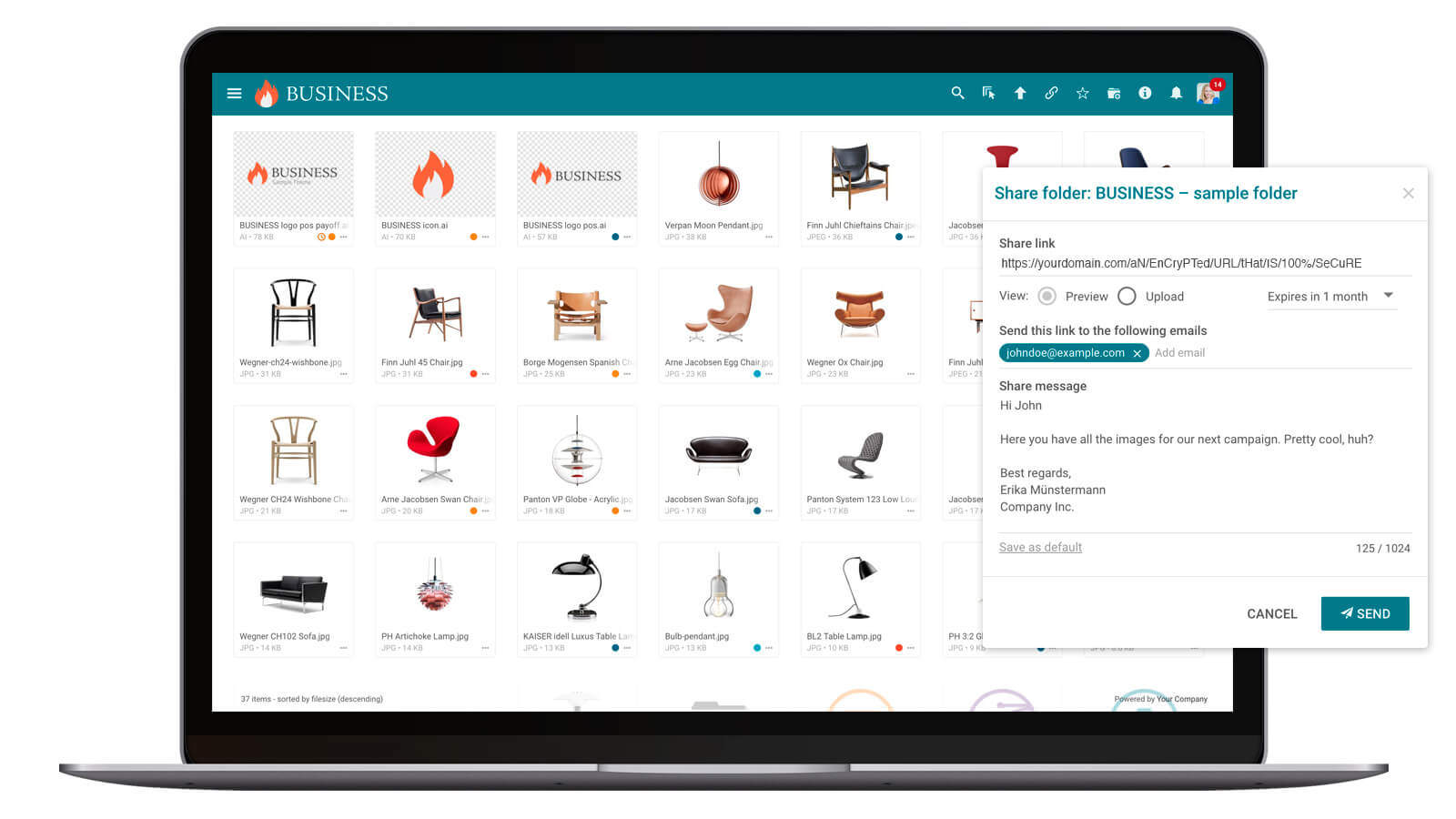 Share & Distribute
Easily share and distribute files with teams and third-parties — no more lost USB sticks, e-mail attachment size limits, corrupted servers or security threats. Give your stakeholders password-protected access to the folders you want them to access or send a download link straight from Filecamp for non-users to easily access specific files or folders.
Custom Branding … on steroids!
Put a professional face on your digital asset management system with Filecamp's custom branding features. Use your company logo and colors, plus a custom URL to make a seamless transition between your website and your Filecamp. Need additional brand portals? No problem. You can add more customized portals to your account in seconds.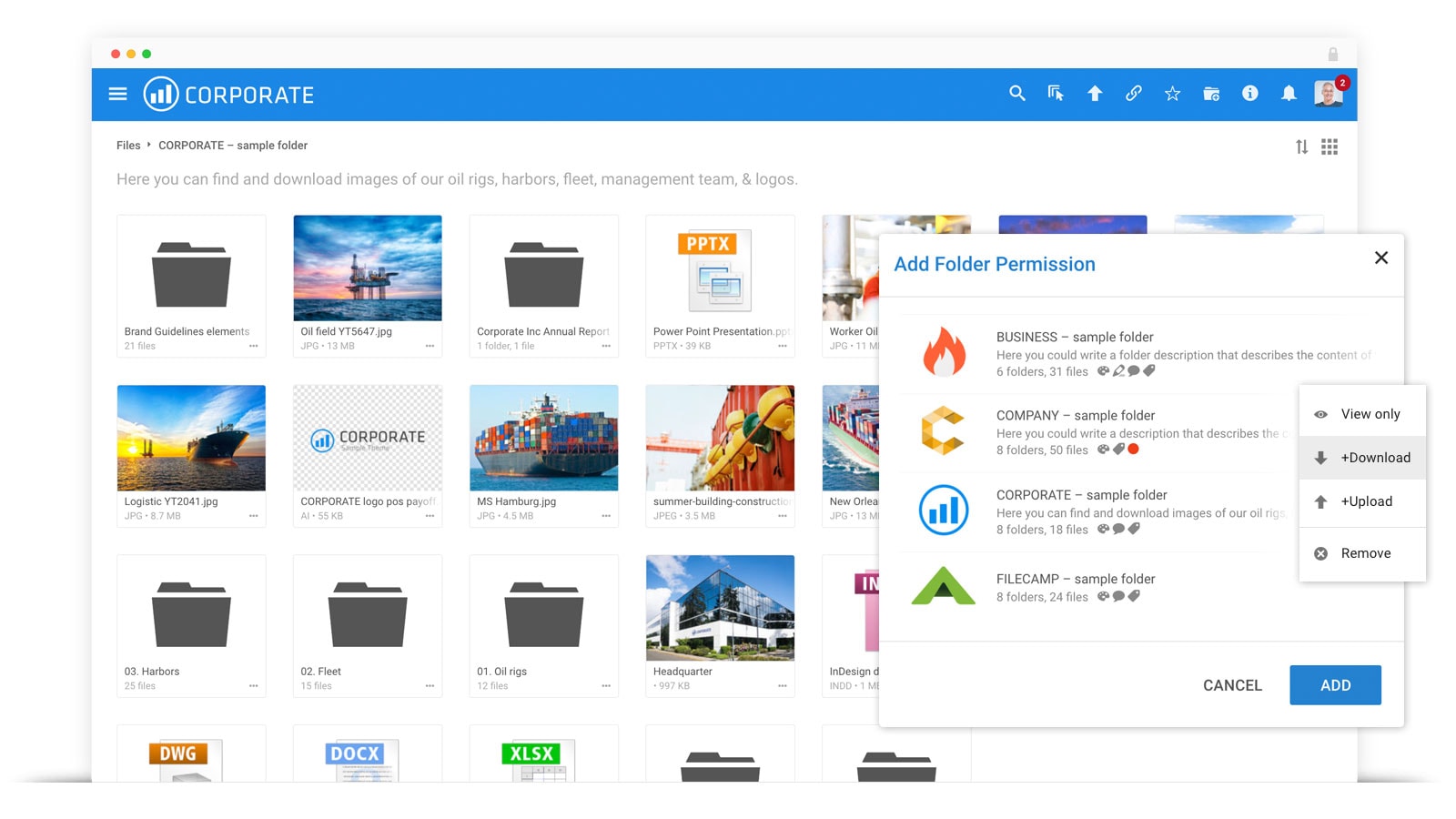 Manage & Control
Stay organized and simplify the way you work. Easily manage all your files and control access and usage. Filecamp comes with unlimited users in all plans, so you don't have to worry about price per user or other hidden costs.
Learn more ...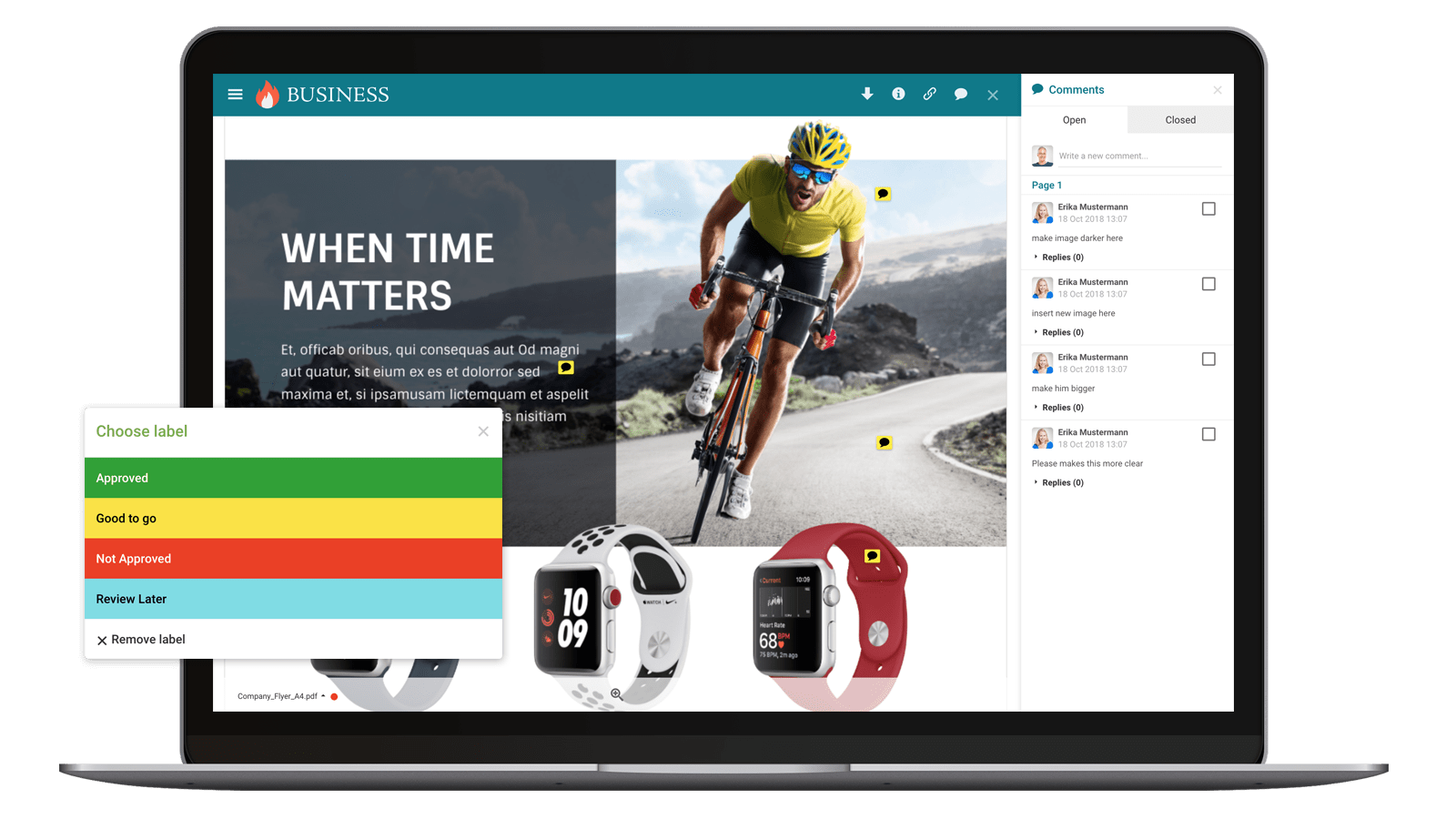 Comment & Collaborate
Unify your teams and keep them moving fast with online communication tools that allow commenting, real-time alerts and approvals.
Learn more ...
Advanced download options
Get the file types you need, when you need them. You can download a high-resolution file from Adobe Illustrator into a simple jpeg for inserting into Word documents. This and other download options are a real treat for completing media requests on the fly.
Custom branding

Customize your account to reflect your company brand.

Shared links

Make individual files or entire folder structures publicly available when needed.

Unlimited users

Create as many users as you like and give them access only to the files you want them to see.

Audit trail

As an administrator, you have access to the log that keeps track of everything that happens in your Filecamp account.

Trash

When you delete files from your Filecamp account they are moved to the Trash, but Filecamp protects against accidental removal.

Click-on Agreements

Set your own terms & conditions and require your users to agree to those terms before accessing your files.
Branded Login Page

Customize the look and feel of your login page by adding a background image, logo and custom terms.

Truly cross-platform

Filecamp is a cloud-based Software as a Service (SaaS). You don't need to install any software on your desktop or laptop. You can access Filecamp online anywhere and anytime from any device.

Version Control

When collaborating on files it's sometimes useful to be able to go back in time and view and download previous versions of a file.

Messages

Choose to receive a notification when someone uploads a file, changes a label or adds a comment to a file.

Own SSL certificate

If you want to remove the "filecamp.com" from your Filecamp URL, you can deploy your own SSL certificate and still benefit from maximum security.

Access Request

New users can request an account directly from your login page and your admins can easily either Approve or Reject access.
Favorites

Find what you need faster by pinning your favorite or most used folders or collections to the main menu.

Labels

Add labels to your files for rating, easier indexing or proofing purposes. Create your own labels that make sense to you and your workflow.

Asset Expiration

Manage asset expiration information within Filecamp, and save time by automatically deleting expired assets.

WebDAV access/mount

You can also use traditional FTP software to access or mount your Filecamp instance.

Scaleable

Change plan and storage quota at any time.

Drag-and-drop uploads

Drag files and folders directly from your desktop to the Filecamp upload window.

Centralize and Share Your Creative Assets and Media Files. Simply.
No credit card required!